Auckland's heritage counts. Key statistics 2022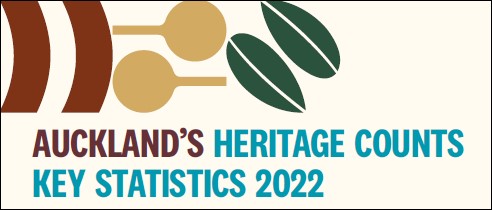 Author:
Auckland Council, David Bade
Source:
Auckland Council Heritage Unit
Ka Whai Take Ngā Taonga Tuku Iho o Tāmaki Makaurau 2022
Auckland's Heritage Counts programme was established in 2018 to showcase the extent and variety of Auckland's heritage and the social and economic value these places have. Since then, a report has been produced each year. This year's report is a shorter report, highlighting key statistics. Unless otherwise stated, all the statistics are from an analysis of the Auckland Unitary Plan (AUP) Historic Heritage Overlay or from Auckland Council Heritage Unit records.
Dr David Bade
Specialist – Built Heritage
Heritage Unit Auckland Council
david.bade@aucklandcouncil.govt.nz
See also:
Other years' summaries:
Auckland's heritage counts 2021. Annual summary
Auckland Council website. Our heritage