Auckland's heritage counts. Annual summary 2021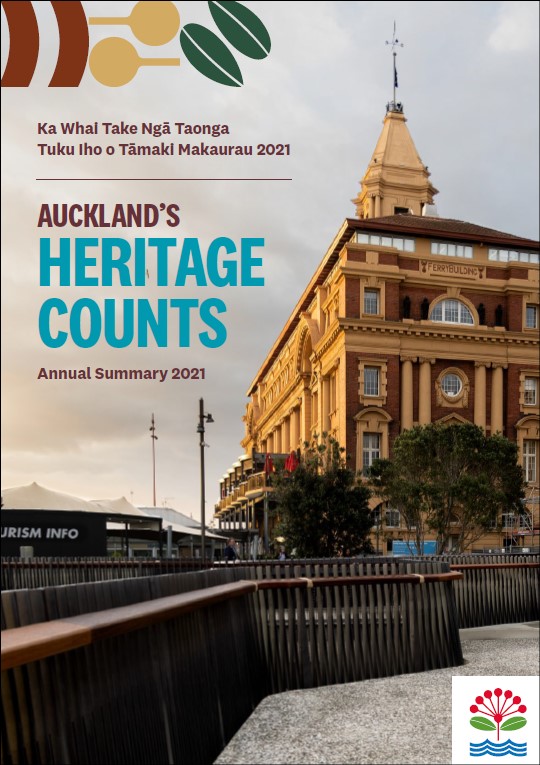 Author:
Auckland Council, David Bade
Source:
Auckland Council Heritage Unit
Ka Whai Take Ngā Taonga Tuku Iho o Tāmaki Makaurau 2021
Tirohanga whānui
Overview
Welcome to the 2021 edition of Auckland's Heritage Counts.
Now into its fourth year, the aim of this programme has been to bring attention to what heritage there is in Auckland and how Aucklanders value it. There are obvious ways heritage is valued, such as through tourism, but there are also not-so-obvious ways, such as the value people place on keeping heritage for future generations or the value people place on purely knowing it exists.
Through the last four editions, a variety of statistics and research has been collated to show these values, such as the price effects of heritage (2018), engagement with heritage in social media (all years), visits to heritage attractions (all years), attendees at the Auckland Heritage Festival (all years), membership numbers of heritage organisations (all years), public attitudes to heritage (2019), research on heritage volunteers (2019), the Karangahape Road Heritage Area Business survey (2019), and heritage wedding venues research (2021).
Some highlights of the 2021 edition, include:
the impact the COVID-19 lockdowns had on heritage visitor attractions
how heritage has been protected since the Auckland Unitary Plan (AUP) became operative in November 2016
a case study on the protection of sites and places of significance to mana whenua
statistics on the potential impact of sea level rise on heritage places.
Most statistics come from an analysis of the AUP historic heritage schedule and other schedules. Other sources are referenced in footnotes.
A special thank you to all those who provided data, content and research in this edition, and to those involved in its design.
Dr David Bade
Specialist – Built Heritage,
Heritage Unit Auckland Council
david.bade@aucklandcouncil.govt.nz
See also:
Other years' summaries:
Auckland's heritage counts 2020. Annual summary
Auckland Council website. Our heritage