State of our Gulf 2020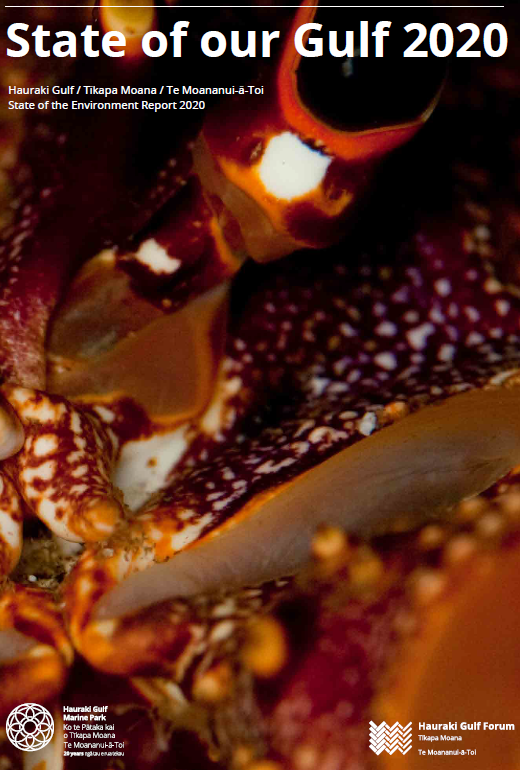 Author:
Hauraki Gulf Forum
Source:
Hauraki Gulf Forum
From the Executive Summary:
The Hauraki Gulf / Tīkapa Moana / Te Moananui-ā-Toi is special. It's special because of the beauty and variety of its land and seascapes. Sandy beaches, towering bluffs, islands large and small, clear open water, reefs, sheltered harbours, tidal estuaries, and a host of other natural habitats. It's special because the abundance and diversity of life those places support. It's special because it enriches our lives.
It's special to tangata whenua, whose ancestry and history are etched into its landmarks. Who prosper from the profusion of kai, materials and experiences it provides. Who continually build upon their knowledge of its land, waters, plants and animals. And who have developed and adapted customs and practices to enjoy the taonga of the Gulf, now and into the future.
It's special to the people who grew up beside it, moved to its shores, or simply come to visit. The families that spend summer days at its beaches. The island inhabitants, who treasure living in isolation and wilderness. To those seeking a more cosmopolitan experience beside its shores. It is special to the boaties that explore, fish, play and race in its waters. To divers, naturalists, and gatherers. And, to those who earn their livings from it.
It's special, but it's far from pristine. Many things have been lost or degraded.
It has been progressively reshaped by our activities. Sometimes visibly, sometimes invisibly. Sometimes slowly, sometimes fast. Sometimes reversibly. Often irreversibly.
The national importance of Hauraki Gulf / Tīkapa Moana / Te Moananui-ā-Toi is recognised through the Hauraki Gulf Marine Park Act. That came into effect in February 2000, establishing the Marine Park and the Hauraki Gulf Forum, tasked with improving its management. The establishment of the Marine Park held the promise of halting or reversing progressive environmental decline by promoting a more integrated approach to its management. Yet many, if not most of the issues that existed when the Marine Park was established have not been resolved. Island restoration efforts have been a spectacular success, but the situation is not as good in the marine space.
Turning the trajectory of the Gulf around has proved to be difficult. It's like paddling a waka against the tide. Everyone needs to be pulling in the same direction. Ease off and you quickly drift back. Strength and stamina are needed to simply maintain your position. More is needed to move towards your destination. Gains can quickly be lost.
If you drift back, you could hit rocks and lose everything. You can throw an anchor out, but it has to be large and strong enough to hold. Our restored islands and marine reserves are an anchor. They protect our taonga, our heritage: indigenous birds, reptiles, insects and vegetation; the golden canopies of surging kelp forests; the grandfather kōura and tāmure that were once the masters of their domains.  If those anchors are too weak or small, they will not hold against the tide.
Extra paddlers help us move forward, but they must be motivated, powerful and fit. Those paddlers are the rules that govern what we do, the enforcement of those rules, voluntary work, community and Māori initiatives, and other mahi carried out to protect and enrich the Marine Park. To date, they don't appear to have the strength and stamina needed to hold against the tide of population and economic pressures on the moana.
Similar stories have been repeatedly told in the 20 years and six State of the Gulf reports since the Marine Park was established. They essentially come down to the struggle between economic development and population growth on the one hand, and environmental loss on the other. There is no free lunch.
New initiatives are happening that may help or hinder. But perhaps it is time to also consider whether we got the balance between environmental, economic and social values right in the Hauraki Gulf Marine Park Act. Whether there are better options for delivering integrated management and improved outcomes for the Gulf. It is the only Act to directly recognise the national significance of the Hauraki Gulf / Tīkapa Moana / Te Moananui-ā-Toi. To make special provision for the protection, enhancement, and maintenance of its values. But it doesn't appear to have the strength to turn things around.
Changes in the Marine Park have often been rapid and unidirectional. It is too late to reverse the effects of many past actions, or inactions. However, we can decide the future. The high values of Hauraki Gulf / Tīkapa Moana / Te Moananui-ā-Toi still warrant special protection. It is up to us to determine what the future will be, and to take the actions needed to achieve it. That needs to be done quickly, because time is working against us.
February 2020